Description
Imagine being a dance teacher who does not look for students but has students looking for you! Never before has there been such a comprehensive, richly detailed resource for the art and science of teaching ballroom dancing. With this one of a kind book, you'll develop the confidence and professionalism to quickly and easily go from being a good teacher to a GREAT one, and gain the skills needed to skyrocket your career.
With this book you will:
Learn a clear, precise system for easily teaching and reviewing figures
Confidently teach dance frames, lead and follow, and connection
Motivate and excite your students about the world of competitions, showcases and medal tests
Discover the keys to teaching Latin hip action and arm styling
Learn how music is constructed and how it relates to the different ballroom dances
Master techniques for teaching posture, coordination and body-awareness
Learn the interpersonal skills for nurturing long-term, healthy teacher/student relationships
Become versed in a comfortable, customer-focused approach to selling dance lessons
Master the vocabulary and technical elements essential for teaching and certification
Incorporate excellent methods for teaching beginners and wedding couples
Greatly improve your own technique, whether or not you dance competitively
Teach Like a Pro is the official textbook of the Ballroom Dance Teachers College training program and contains invaluable supplemental material in conjunction with our Salesfree Sales seminars, certification training and for those soliciting business consulting services in the field of ballroom dance.
Diane Jarmolow created and founded the Ballroom Dance Teachers College training program, now used in over 60 institutions throughout the world. She is a DVIDA® National Examiner, having originated their innovative system of professional certification.
Here are a few pages from 'Teach Like a Pro' for you to sample!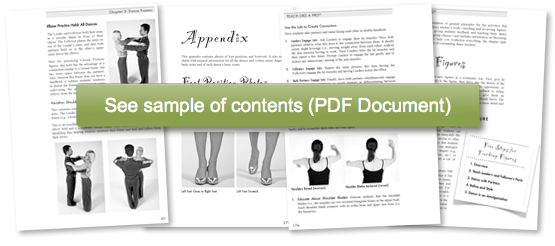 Review of Teach Like a Pro
A Must-Have Book for All Ballroom Dance Teachers and Studio Owners
Reviewed by Kevin Fee
Teach Like a Pro: The Ultimate Guide for Ballroom Dance Instructors is the roadmap for every ballroom dance teacher, from the aspiring new teacher to the seasoned pro.
Teach Like a Pro is the only book I have ever found that provides a comprehensive, detailed look at the "art" of teaching ballroom from a teacher's perspective. In my view, the challenge for ballroom dance teachers is to transform an inherently subjective art into a more objective and practical science. Teach Like a Pro does this by addressing every aspect of teaching and providing the proven methods for teaching ballroom dancing at the highest level possible. As an experienced ballroom dance teacher, Teach Like a Pro gave validation to some of the methods I had developed over the years, mostly through trial and error. But much more importantly, the book taught me many new methods that I have successfully used with my students to bring their dancing to a higher level. The response from my students has been nothing short of phenomenal. And in the process, my own dance instruction has risen to a higher level as well. Teach Like a Pro is now the cornerstone for my studio instruction (oh, how I wish this book had available when I first opened my studio!).
In additions to all the amazing instructional aspects, Teach Like a Pro contains many other valuable resources for teaching. Here are a few that I found particularly helpful:
Arm Styling—This section is an excellent read and includes a synopsis of the various arm positions in ballet. Over the years, I have received several lessons in arm styling, but each lesson referenced a different source—Russian, French, Cecchetti—which left me confused. So Teach Like a Pro's logical presentation of arm styling, complete with pictures, was incredibly welcome.
Competitions—I was inspired by the section on taking students to competitions. While I have attended many competitions over the years as a spectator, I did not fully understand the labyrinth of categories and protocols that comprise that world. After reading Teach Like a Pro's thorough summary, competitions seemed so much more approachable. I am now planning to join the competitive world in the very near future!
Technical Dance Elements—Even if you are experienced at reading dance manuals, the depth and details in Teach Like a Pro will give you a totally new understanding of each dance element. I have found that this knowledge translates to everything from improved teaching to faster professional certification.
In summary, this book has transformed my lesson approach, delighted my students, and made me rethink my business. If you are interested in being successful as a ballroom dance teacher or studio owner, this is a must-have book!
Kevin Fee is a professionally certified ballroom dance instructor and the studio owner of Dance Harmony in Pleasant Gap, Pennsylvania. He has been an avid social dancer for decades, a dance teacher since 1994, and a studio owner since 2005.