Diane Jarmolow Trains Ballroom Dance Teachers
By Dolly Tavasieff
Original article in Open Exchanges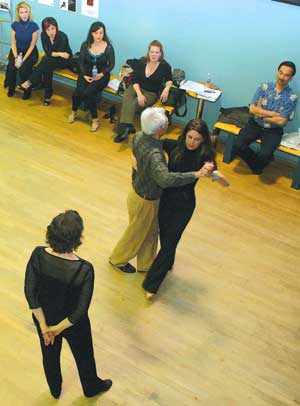 The dancers enrolled in the Ballroom Dance Teachers College teacher training program all share the same dream: to become an instructor and make ballroom dancing their life. Many of these future teachers are fresh out of high school or college and have been dancing all their lives. But there are also dancers who come to the training classes after spending most of their professional lives somewhere else. They've been lawyers, or engineers, or dentists, or rocket scientists. Now they are learning to teach the box step in the Waltz, and loving every minute of it.
"I want people to know that it is possible to become a ballroom dance instructor at every stage in their life," says Diane Jarmolow, the founder and director of Ballroom Dance Teachers College, and an internationally renowned luminary in the ballroom world. "It's never too late," Jarmolow adds. "You can be in your 40's, your 50's, your 60's, or your 70's and you will be welcome in our training classes. The only prerequisite to enrollment is a love of dance and a desire to help others experience that joy." Are you ever too old to consider a career in ballroom dancing? "Never," says Jarmolow, adding that one of the most thoughtful and engaging teacher trainees she has ever known was in his 80's when he began the program.
Ballroom dancing differs from other dance professions in that it is possible to have a successful career even if you begin dancing as an adult. If you want to be a principal ballerina, you must have that early training in your physical development. But if you want to help a wedding couple learn the Foxtrot, it's more important that you are an enthusiastic, supportive and knowledgeable teacher who understands the dance figures and knows how to communicate this understanding to people with a variety of learning styles.
This is what the future teachers learn in the Ballroom Dance Teachers College. The program is rigorous. Graduates must master the formal technical elements of each dance. They learn musicality and partnership skills and have regular presentation exams. Ballroom Dance Teachers College is the premier ballroom teacher training program in the country, and by the time the graduates have gone through the program, they are teaching at a national level of professional excellence. "No matter what your age when you begin," Jarmolow says, "you will be a great teacher when you are done."
Still, Jarmolow adds, not everyone is destined to become a United States ballroom champion. Many of the graduates are teaching in schools, in senior centers, and in community recreation programs, sharing the love of ballroom dancing with people who may never have had an opportunity to take formal dance classes. Most importantly, these dance teachers are doing what they love to do.
"So many people spend their lives working in careers that they hate," says Jarmolow. "Becoming a ballroom dance teacher is a viable option for people at every age. It is a wonderful profession that engages your body, your mind, and your heart. You don't have to spend every day doing something you hate," she smiles, "you can become a ballroom dance teacher and truly live your joy."