Introducing SalesFree Sales Training…
SalesFree Sales is an innovative training specifically designed for ballroom dance professionals. Its name says it all—retaining students without any sales pitches, gimmicks, or pressure. Instead, it is based on the reality that when you establish authentic, caring relationships with students, "sales" happen naturally.
At the end of this training, you will have the skills to create positive, long-lasting relationships with students and colleagues, and successfully enroll students in dance lessons.
Click here to watch a short video of a Salesfree Sales workshop.
What You Will Learn in the SalesFree Sales Training
A Positive Philosophy for Increasing Business without "Selling"

Nine choices for ethical and effective sales
Rewards of giving
Being honest with yourself and others
Setting healthy boundaries
Sales-Free Skills and Information
Student-focused process
Six stages of enrolling a student in dance lessons
Addressing objections
Connecting with different types of students
(e.g., new students, continuing students, competitive students, wedding couples, etc.)
Connecting with different personality styles
People and Communication Skills
Listening
Asking the right questions
Communicating clearly and honestly
Giving constructive feedback
Understanding personality types
Teaching Skills
Understanding students
Targeting lessons
Confidence and composure
Here's a short presentation of what you'll learn with SalesFree Sales!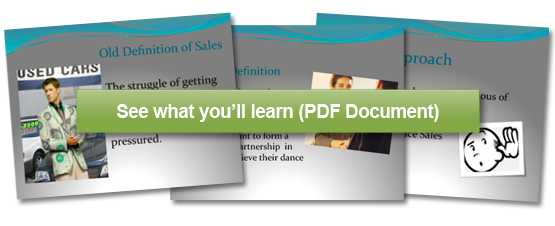 Praise for SalesFree Sales Training
"It went above and beyond my expectations! The content I don't think is what anyone would expect in a "typical" sales training course. When I think of sales training, I think very cut and dry, they tell you what the goals are, what to do, what to say, but would never place any emphasis on your intention behind it and the place that you are coming from when engaging in this type of process. I really think that alone is what changes it from being 'sales' to being 'sales-free'."

– Jaymee Racho, instructor, Cheryl Burke Dance, San Francisco

"Simply put…to learn, accept and recognize that "sales is great"! Because it is simply about striving to give others what they want and need. How nice is that?! And that there need not be any pressure, or trying to convince anyone of anything, or fear of losing the sale – for you or your studio, etc. . . . Therefore a simple, honest conversation can result in a win-win situation where everyone is happy, no one feels taken advantage of, and everyone gets what they want."

– Bonny Branch, Ballroom Dance Teachers College graduate
"Thank you, thank you, thank you. I plan to incorporate this into everyday life and hopefully will grow and become more successful, and show others how much they are valued in the process."

– Robert Ping, Managing Director, Bloomington Ballroom Dance Academy
"Actually, I have been using what I learned during the course all day. . . I have been setting my intentions, asking [my customers] for theirs. . . Asking lots of questions (without assuming the response). They have already been providing feedback as to how their experience is so different from usual consultants! Thank you for sharing your knowledge and experience and offering these so very valuable tools!"

– Janet Fjeldstad, Former Manager, Cheryl Burke Dance, San Francisco
Get Started Today!
For more information please contact us.