What is Professional Certification?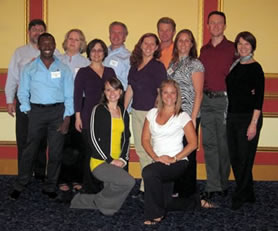 In the dance industry, professional certificates are granted to dancers who submit themselves to a standardized exam from one of the accredited organizations, and who pass that exam satisfactorily. A credential from any of these organizations is an asset to your career.
The certification exam for which we prepare you is the Dance Vision International Dancers Association (DVIDA®) certification. We base our teacher training curriculum on the DVIDA® syllabus and exam structure; provide complete and thorough training for all the DVIDA® professional exams; and are available to administer the exam itself.
DVIDA®'s Reputation
DVIDA®, the Certification branch of Dance Vision, was created with the same high standard of excellence for which Dance Vision is known. The syllabus and exam structure were immediately approved by the National Dance Council of America (NDCA), and the industry response has been overwhelming: the DVIDA® certification system is hailed as excellent, professional, and fair. The manuals and corresponding videos were created by U.S. champion dancers and offer the highest quality instruction. Dance Vision's commitment to the dance community is unparalleled, with cutting edge products and services, prompt and friendly customer service, and innovative programs to help dancers grow and improve at every stage.
Why Should I Get Certified?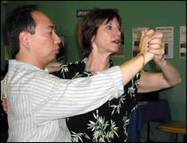 The Professional Certification process offers extraordinary benefits to dance teachers, deeply enriching their dancing and teaching, and greatly expanding their career opportunities. Diane says, "Going through the certification training and taking the exams has taken my dancing to a much higher level, given me the ability to run my own school, and given me entree into the judging arena. The teachers I know who have become certified unanimously agree that it is the single best thing they have done for themselves in their dance career."
Become a Better Teacher
The process of preparing for your certification exam will teach you dance concepts you may not have fully understood. You will improve both your verbal and presentation skills. You will learn the precise vocabulary for describing the technical elements of dance figures, which will help your explanations become clear, succinct, and consistent. Your knowledge of the precise alignments will improve your ability to choreograph routines for your students. You will expand your knowledge of musical terms and concepts, and you will understand how dancing and music relate. Finally, the process of technical mastery will improve your eye, so you will know instantly how to correct your students.
Become a Better Dancer
The technical expertise required to pass your certification exam will catapult your dancing to an entirely new level. You will learn the "rules" of technique that will keep your dancing consistent and help you master new, advanced figures. You'll develop a language that will help you work more effectively in your dance partnerships. Above all, your confidence will soar with the true mastery of dance technique that will stay with you for the rest of your career.
Declare Your Professional Excellence
The certificate you receive when you pass your certification exams declares your expertise to the world. You'll be able to attract serious students and earn more for your services. You will be a desirable employee in dance studios around the country. You can even obtain your judging credential. Your certification is the first step to being recognized as a national expert.
"One Dance At A Time"
Another advantage to certifying with DVIDA® is that you can take your professional certification exams "One Dance at a Time." For example, the Bronze American Style Ballroom certification includes four dances: Waltz, Foxtrot, Tango, and Viennese Waltz. With other organizations, you would need to study, prepare and present all four dances in one exam. With DVIDA®'s exams, you have the option of testing in each dance separately, one at a time. This makes preparation much easier: you learn the material more thoroughly when you're not overwhelmed "cramming" for four at once; each successive test becomes less stressful and more comfortable as you know what to expect; and you can improve your performance each time based on the examiner's previous feedback. After successfully completing each one dance exam, you receive a "Certificate of Completion" for that dance, and full certification when you have successfully tested in all of the dances at a particular level.
How We Can Help You
Preparing for a certification exam can be a daunting task. Studying with a BDTC certification trainer gives you unparalleled insight and clarity, and a deep understanding of the overall principles. Your studying becomes more efficient and effective, allowing you to pass your exam with confidence. We offer professional dance instruction in both American and International styles in preparation for the Associate through Grand Master exams. We can establish a study timeline and framework that is customized to meet your individual schedule and professional goals.
Exams
Hannah Cole is a Regional DVIDA® Examiner for American and International styles, and is available to administer exams in-person or via Skype. Please contact us to book an exam.
Certification Training & Exam Preparation
We offer several options to help you prepare for your exam. Even if you don't live in the San Francisco area, you can take advantage of our services and meet your dance goals.
Certification Intensives ("T for Two") at Sol Ballroom: These 5-, 7- or 10-day stay courses offer intensive instruction, study, and practice of various DVIDA syllabi. They vastly condense the time you need to spend preparing for your exams. You will leave fully ready to take your DVIDA® certification exams , or we can arrange for you to take your exams while you are here. Certification workshops are perfect for out-of-town professionals, as well as amateur dancers who want to improve their knowledge and dancing or who are considering teaching ballroom dance as a profession.
Remote Training via Skype:

We offer private lesson certification training ($125 per lesson), as well as group training sessions for two students at a time. "Skype for Two" allows students to share the cost of training, no matter where they live ($65 per person per lesson).

Teacher & Certification Training at Your Studio: We can come to your studio to organize an ongoing program to give you and your staff the tools necessary to succeed in becoming certified. She will create a program tailored specifically for your staff and your business needs.
At the time we took your certification intensive 3 years ago, we both knew it was a turning point for us. But we have only begun to understand the full depth and benefits of that training.

It has given us the structure and knowledge to share dancing responsibly. We would never have had the confidence to pursue our passion for teaching dance without it. Now, 3 years later, we are still growing from the seeds planted there.

~ Clay & Tami Belcher, Retirees turned Ballroom Dance Instructors
Custom Designed Teacher Training and Certification
Whether you can come for a long weekend, a month, or several months, we will help you find housing and create a training schedule that will fit your individual needs. This has proven to be a very successful option for teachers from different parts of the country.
Please contact us to get started!