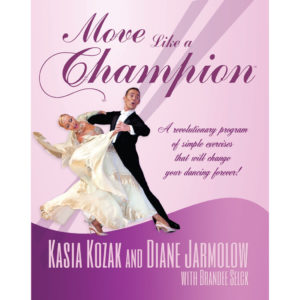 Take home all the revolutionary concepts from the Move Like a Champion workshop series now in book format. Written by world-class dance instructors Diane Jarmolow and Kasia Kozak with Brandee Selck, Move Like a Champion: The Power of Understanding How Your Body Works will give you valuable insight into the techniques and theories that produce championship-level dancers. Order today and unlock your full dance potential!
Buy Now
[button url="http://movelikeachampion.com/products-html/" target="_blank" size="small" style="purple" ]Click to purchase![/button]
Here are a few pages from 'Move Like a Champion' for you to sample!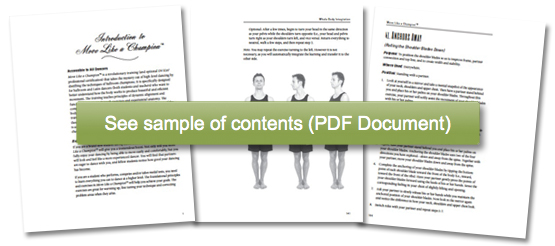 Reviews for Move Like A Champion
This training is truly amazing. I look forward to making it a requirement for all my students. I'm incredibly impressed with you and your team going where others haven't or couldn't.
David Weise, 2001 United States Professional Smooth Rising Star Champion
I thoroughly enjoyed the course and highly recommend it, Diane and Kasia did an excellent job of presenting a huge amount of information and making it easy and fun to practice and implement into our daily routines as both dancers and teachers.
Sharon Ferguson, Dance Instructor, San Diego
I love that you are providing this material to DanceSport teachers. It is important for all teachers to understand how the body works and then how to help our students become more proficient movers. Thank you.
Debra Knapp, Dance Department Director, New Mexico State University
I feel that [becoming Move Like a Champion certified] is critical to my development as a competitive dancer and teacher.
Eric Fierro, Professional competitor, Master Teacher New Mexico State University